Osby Parca GTP
Boiler For Oil/Gas, 0.75 - 12MW
Self-circulating fire tube boiler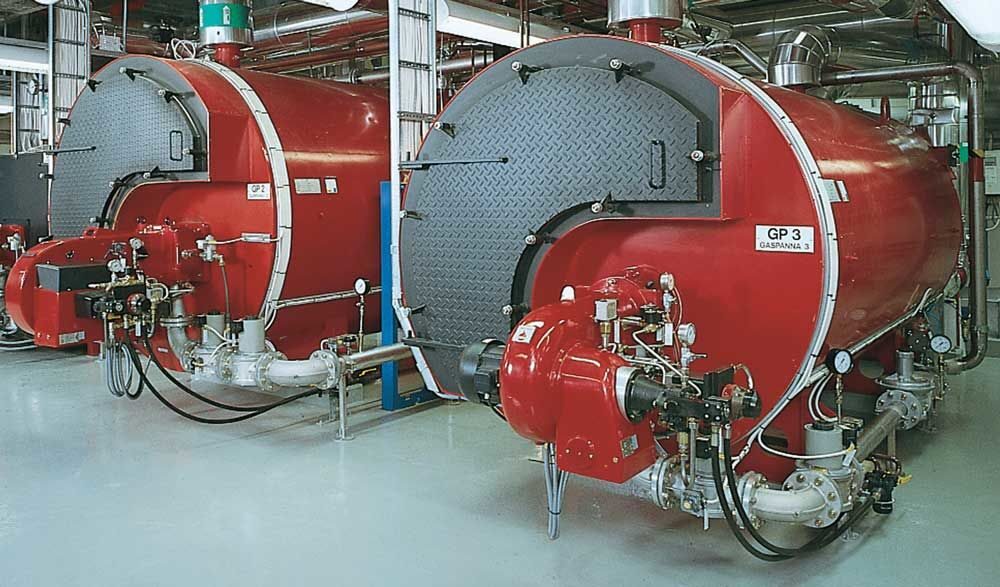 The Osby Parca GTP has a cylindrical furnace and a tube equipped convection section where the flue gases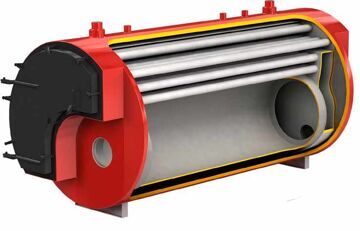 pass in two strokes withoutnbturbulators.
The boiler is of welded steel and the the furnace, the turning chamber and the convection tubes are completely water cooled. The boiler is selfcirculating, this treat provides an even water temperature throughout the boiler.
This boiler is based on a very reliable design and is primarily intended for firing oil or gas but it can also be adapted for firing modern fuels like bio oil, pellets and wood chips.
Cleaning of the flue gas tubes is carried out from the front through a large insulated door. Cleaning during operation can be performed using for example steam or compressed air.
This boiler type is also available as a steam boiler, GTP.
| | |
| --- | --- |
| Design data GTP | Design data GTP |
| Output | 0,75 - 12MW |
| Design pressure | 6 or 16 bar |
| Design temperature | 165 - 204 °C |
| Flue gas temperature | 200 °C |
| Boiler efficiency | 94% |
Welded tubes according to Osby
Parca standard with countersunk
weldnings

Options

• Top floor
• Burner and fuel adaptations
• Modified boiler length or heigth
• Platform with ladder
• Additional connections
Water temperature
The standard water temperature is max. 165 r 204 °C. The return water temperature is min. 60 °C at Δt of 30 °C at nominal output.

Water flow
The boiler has a connection for a thermal flow switch. There is no demand for minimum flow if a thermal flow switch is installed. An electronical ow switch can also be used. Formula for calculating minimum flow: m3 / h = output (kW)/ 464
1. Osby Parca GTP boiler

2. Oil- or gas burner

3. Cleaning door for boiler tubes

4. Control cabinet

5. Chimney

6. Separate flue gas pipes

7. Common flow water pipe

8. Common return water pipe

9. Economizer

10. Flue gas pipe

11. Flue gas thermometer

12. Steam separator with drainage pipe

13. Steam separator

14. Return water shut down valve

15. Motor throttle valve

16. Flue gas thermometer

17. Safety valve

18. Boiler internal circulation pump

19. Flow water shut down valve

20. Thermometer; operation, max., and regulation thermostat;

pressure switch; dry boiling protection; flow switch

21. Bottom thermometer

22. Furnace and turning chamber door

23. Internal circulation pump, economizer valves

24. Gas or oil pipe

25. Steam separator drainage pipe
Equipment and connections
1. Burner flange

2. Inspection glass

3. Multi layer isolated furnace door

4. Supply pipe connection

5. Return pipe connection

6. Exhaust connection

7. Cleaning hatch

8. Drainage conn. R 3/4" int.

9. Conn. 1/2" for thermal flowguard

10. Connection for safety valves

11. Water cooled rear end wall

12. Convection part access door, hanging left or right
| | |
| --- | --- |
| Long side | Short side |
Dimensions and Technical Data GTP
Out-

put

MW

Gas resis-

tance Δt Pa

Firing surfa-

cem 2

Con-

nec-

tion

DN*

Fur-

nace dmm*

Fur-

nace lmm**

Gas volume* m 3

Water vo-

lume m 3

Weight (6 bar)

tonne

Weight (16 bar)

tonne

A mm

C mm

L1 mm

F mm

L mm

W mm

H mm

0.75

300

30

80

650

2875

1.9

2.8

4.0

4.5

220

1080

3465

780

3895

1590

1705

1

300

39

100

700

2900

2.3

3.3

4.5

5.0

230

1160

3490

810

3980

1660

1810

1.5

350

55

125

750

2950

2.9

4.0

5.0

6.5

280

1260

3540

850

4080

1800

1950

2

400

69

125

850

3125

3.7

4.8

6.0

7.0

290

1370

3715

905

4285

1910

2060

2.5

400

85

125

950

3150

4.6

5.3

6.5

8.5

310

1500

3740

965

4350

2070

2220

3

500

94

150

1000

3300

5.1

6.0

7.0

9.5

340

1560

3890

995

4500

2150

2300

4

700

115

150

1100

3875

6.8

7.5

10.5

11.5

360

1640

4465

1050

5125

2250

2400

5

750

140

150

1200

3910

8.2

8.5

11.5

14.0

360

1760

4500

1100

5210

2400

2550

6

750

170

150

1300

3965

9.9

10.0

14.5

16.5

390

1910

4555

1160

5315

2610

2760

7

750

203

150

1300

4705

11.8

13.0

15.5

19.0

430

1980

5355

1185

6185

2680

2830

8

750

230

150

1400

4700

13.6

14.0

16.5

21.0

470

2100

5355

1240

6230

2830

2980

10

750

291

200

1530

4750

16.9

17.5

18.5

25.5

510

2310

5400

1325

6390

3090

3240

12

850

329

200

1650

4875

20.0

20.0

25.0

33.0

530

2460

5435

1395

6555

3290

3440
Standard series - Flue gas temperature <200 °C
*Standard dimension, kan be modified depending on flow
** Standard length, can be prolonged depending on burner's throw of flame